Your ranking is determined by your position on the Top Stars list. They are sorted into six different lists, Unlisted being the lowest rank to the A-list being the highest rank. You start Unlisted, and rise up in ranks by gaining fans. The goal of Kim Kardashian: Hollywood is to get to the A-list. You can do this by getting as many fans as possible, getting attention from Starnews, and dating. You can click the Feed icon in the menu to review Trend Style and compare your fame against other celebrities in the Top Stars List. If you have Game Center or Facebook friends, they may add on to the amount of rankings in the lists.
Lists
[
]
Fan amounts and rank numbers are approximate.
List
Rankings
Fans
Reward
Description

Unlisted
#675-

#672

0 fans
None
This is your starting list.

E-List
#671-#594
1-5000
2
Get out there, get in magazines, be seen in the right places with the right people… get more fans!


Make the A-List!


D-List
#593-#465
5000-65000
3
It's possible that a stranger would recognize you on the street before forgetting about you completely.

C-List
#464-#328
65000-750000
4
You can now shout "Do you know who I am?!?" when fast food restaurants refuse to serve you breakfast in the afternoon.

B-List
#327-

#156

750000-7.5M
5
But there are still lots of people more famous than you, and that one guy you met that time that didn't know who you were.

Unacceptable.


A-List
#155-#100
7.5M+
6
You've made it! But don't stop now, there are still tons more possible fans out there. Share the news with your friends on Facebook or Twitter!
Top 100
#100-#11
2
Congratulations! You've made it to the Top 100! Keep playing to make it to the coveted top spot!

Top 10
#10-#2
2
Congratulations! You've made it to the Top 10! The number 1 spot is almost yours!
-

At the Top!
#1
245.2M+
2
You're the top star! Keep playing to maintain your spot at the top of the list!
Comeback
[
]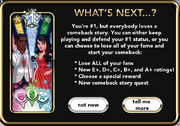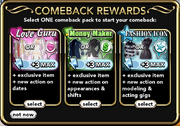 With the 2.6.0. update, you have the option to do a comeback. In order to do so, you'll need to be #1 on the Top Stars list. You get to choose from the following: Love Guru, Money Maker, or Fashion Icon. Each choice gives you an exclusive clothing item and a specific action, as described below. Regardless of which comeback you choose, you'll get a permanent

+3 to your max energy for each comeback. You're able to do all three comebacks, so you can have a maximum of

44 energy. There is also a special quest line associated with doing the comeback.
Warning: If you decide to do a comeback, you will lose all of your fans. With the first comeback, you start over on the E+ list. But that is the only thing that is negatively affected; you will keep your current level, investments, relationships, pets, clothes, money, etc. and won't have to repeat any of the quests you've done in the past. 
Comeback Actions
[
]
| Action | Cost | Reward |
| --- | --- | --- |
| money maker | 9 | +15, +15, +11, +1 |
| Fashion Icon | 9 | +15, +15, +11, +1 |
Comeback Quest
[
]
When you accept your first comeback and transition from A to E+, you will be phoned by Simon stating that he "knows times have been tough," but that he has been approached with an offer and to come by his office in Hollywood. Creating the questline Comeback.

Feed
[
]
Ray Powers
@StarNews_Ray
New on the scene, YourName is getting more and more attention. We predict big things from this up-and-comer!
Ray Powers
@StarNews_Ray
YourName is the name on everybody's lips right now - is she/he ready for fame? We'll bring you the latest!
Ray Powers
@StarNews_Ray
All of us at Starnews agree that YourName is this year's hot new star, but is there any limit to how high s/he'll reach?