This section describes content that has been replaced or removed from the game.
This information is kept here for historical purposes.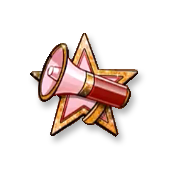 The
Events 2019
page serves as an archive page of all of the events held within the game in the year 2019.
Items displayed on this page can no longer be earned by players by earning event points or purchasing special event boxes.
Some items may still be available in throwback boxes.
The events are archived per month.
December 2019
Edit
5-Star #ThrowbackEvent: December 30, 2019 - January 1, 2020
Starlet
Gift Boxes
Star
Gift Boxes
VIP Event: December 27 - December 29, 2019
Starlet
Event Points
Gift Boxes
Star
Event Points
5-Star #ThrowbackEvent: December 23 - December 25, 2019
Starlet
Gift Boxes
Star
Gift Boxes
Happy Holidays (Professional): December 20 - December 22, 2019
The game crashed on all platforms except Facebook as soon as the event launched, so all players were given 100 event points and 20 k-stars as compensation.
Starlet
Event Points
Gift Boxes
Star
Event Points
5-Star #ThrowbackEvent: December 16 - December 18, 2019
Starlet
Gift Boxes
Star
Gift Boxes
Keep The Cameras Rolling: December 13 - December 15, 2019
Starlet
Event Points
Gift Boxes
5-Star #ThrowbackEvent: December 9 - December 11, 2019
Starlet
Gift Boxes
Star
Gift Boxes
Party Weekend: December 6 - December 8, 2019
Starlet
Event Points
Gift Boxes
5-Star #ThrowbackEvent: December 2 - December 4, 2019
Starlet
Gift Boxes
Star
Gift Boxes
November 2019
Edit
VIP Weekend: November 29 - December 1, 2019
Starlet
Event Points
Gift Boxes
5-Star #ThrowbackEvent: November 25 - November 27, 2019
Starlet
Gift Boxes
Star
Gift Boxes
5-Star Weekend: November 22 - November 24, 2019
Starlet
Event Points
Gift Boxes
5-Star #ThrowbackEvent: November 18 - November 20, 2019
Starlet
Gift Boxes
Star
Gift Boxes
Keep The Cameras Rolling: November 15 - November 17, 2019
Starlet
Event Points
Gift Boxes
5-Star #ThrowbackEvent: November 11 - November 13, 2019
Starlet
Gift Boxes
Star
Gift Boxes
5-Star Weekend: November 8 - November 10, 2019
Starlet
Event Points
Gift Boxes
5-Star #ThrowbackEvent: November 4 - November 6, 2019
Starlet
Gift Boxes
Star
Gift Boxes
VIP Weekend: November 1 - November 3, 2019
Starlet
Event Points
Gift Boxes
October 2019
Edit
5-Star #ThrowbackEvent: October 28 - October 30, 2019
Starlet
Gift Boxes
Star
Gift Boxes
Happy Halloween: October 25 - October 27, 2019
Starlet
Event Points
Gift Boxes
5-Star #ThrowbackEvent: October 21 - October 23, 2019
Starlet
Gift Boxes
Star
Gift Boxes
Celebrate Kim's Birthday: October 18 - October 20, 2019
Starlet
Event Points
Gift Boxes
5-Star #ThrowbackEvent: October 14 - October 16, 2019
Starlet
Gift Boxes
Star
Gift Boxes
5-Star Weekend: October 11 - October 13, 2019
Starlet
Event Points
Gift Boxes
5-Star #ThrowbackEvent: October 7 - October 9, 2019
Starlet
Gift Boxes
Star
Gift Boxes
VIP Weekend: October 4 - October 6, 2019
Starlet
Event Points
Gift Boxes
5-Star #ThrowbackEvent: September 30 - October 2, 2019
Starlet
Gift Boxes
Star
Gift Boxes
September 2019
Edit
Paris Fashion Week: September 27 - September 29, 2019
Starlet
Event Points
Gift Boxes
5-Star #ThrowbackEvent: September 23 - September 25, 2019
Starlet
Gift Boxes
Star
Gift Boxes
Milan Fashion Week: September 20 - September 22, 2019
Starlet
Event Points
Gift Boxes
5-Star #ThrowbackEvent: September 16 - September 18, 2019
Starlet
Gift Boxes
Star
Gift Boxes
London Fashion Week: September 13 - September 15, 2019
Starlet
Event Points
Gift Boxes
5-Star #ThrowbackEvent: September 9 - September 11, 2019
Starlet
Gift Boxes
Star
Gift Boxes
VIP Weekend: September 6 - September 8, 2019
Starlet
Event Points
Gift Boxes
5-Star #ThrowbackEvent: September 3 - September 4, 2019
Starlet
Gift Boxes
Star
Gift Boxes
August 2019
Edit
5-Star Weekend: August 30 - September 2, 2019
Starlet
Gift Boxes
Star
Gift Boxes
5-Star #ThrowbackEvent: August 26 - August 28, 2019
Starlet
Gift Boxes
Star
Gift Boxes
Party Weekend: August 23 - August 25, 2019
Starlet
Gift Boxes
Star
Gift Boxes
5-Star #ThrowbackEvent: August 19 - August 21, 2019
Starlet
Gift Boxes
Star
Gift Boxes
VIP Event: August 16 - August 18, 2019
Starlet
Gift Boxes
Star
Gift Boxes
5-Star #ThrowbackEvent: August 12 - August 14, 2019
Starlet
Gift Boxes
Star
Gift Boxes
VIP Event: August 9 - August 11, 2019
Starlet
Gift Boxes
Star
Gift Boxes
5-Star #ThrowbackEvent: August 5 - August 7, 2019
Starlet
Gift Boxes
Star
Gift Boxes
5-Star Weekend: August 2 - August 4, 2019
Starlet
Gift Boxes
Star
Gift Boxes
July 2019
Edit
5-Star #ThrowbackEvent: July 29 - July 31, 2019
Starlet
Gift Boxes
Star
Gift Boxes
Love Is In The Air (Dating): July 26 - July 28, 2019
Starlet
Gift Boxes
Star
Gift Boxes
5-Star #ThrowbackEvent: July 22 - July 24, 2019
Starlet
Gift Boxes
Star
Gift Boxes
Keep The Cameras Rolling: July 19 - July 21, 2019
Starlet
Event Points
Gift Boxes
5-Star #ThrowbackEvent: July 15 - July 17, 2019
Starlet
Gift Boxes
Star
Gift Boxes
VIP Event: July 12 - July 14, 2019
Starlet
Event Points
Gift Boxes
5-Star #ThrowbackEvent: July 8 - July 10, 2019
Starlet
Gift Boxes
Star
Gift Boxes
5-Star Weekend: July 4 - July 7, 2019
Starlet
Event Points
Gift Boxes
5-Star #ThrowbackEvent: July 1 - July 3, 2019
Starlet
Gift Boxes
Star
Gift Boxes
June 2019
Edit
Keep The Cameras Rolling: June 28 - June 30, 2019
Starlet
Event Points
Gift Boxes
5-Star #ThrowbackEvent: June 24 - June 26, 2019
Starlet
Gift Boxes
Star
Gift Boxes
5-Year Kimiversary Event: June 21 - June 23, 2019
Starlet
Event Points
Gift Boxes
Kimiversary Gift Boxes
Star
Kimiversary Gift Boxes
5-Star #ThrowbackEvent: June 17 - June 19, 2019
Starlet
Gift Boxes
Star
Gift Boxes
VIP Event: June 14 - June 16, 2019
Starlet
Gift Boxes
Star
Gift Boxes
5-Star #ThrowbackEvent: June 10 - June 12, 2019
Starlet
Gift Boxes
Star
Gift Boxes
Love Is In The Air (Dating): June 7 - June 9, 2019
Starlet
Gift Boxes
Star
Gift Boxes
5-Star #ThrowbackEvent: June 3 - June 5, 2019
Starlet
Gift Boxes
Star
Gift Boxes
Keep The Cameras Rolling: May 31 - June 2, 2019
Starlet
Gift Boxes
Star
Gift Boxes
5-Star #ThrowbackEvent: May 28 - May 30, 2019
Starlet
Gift Boxes
Star
Gift Boxes
5-Star Weekend: May 24 - May 26, 2019
Starlet
Event Points
Gift Boxes
5-Star #ThrowbackEvent: May 20 - May 23, 2019
Starlet
Gift Boxes
Star
Gift Boxes
VIP Event: May 17 - May 19, 2019
Starlet
Event Points
Gift Boxes
5-Star #ThrowbackEvent: May 13 - May 16, 2019
Starlet
Gift Boxes
Star
Gift Boxes
5-Star Weekend: May 10 - May 12, 2019
Starlet
Event Points
Gift Boxes
5-Star #ThrowbackEvent: May 6 - May 9, 2019
Starlet
Gift Boxes
Star
Gift Boxes
Love is in the Air: May 3 - May 5, 2019
Starlet
Event Points
Gift Boxes
5-Star #ThrowbackEvent: April 29 - May 2, 2019
Starlet
Gift Boxes
Star
Gift Boxes
April 2019
Edit
Keep The Cameras Rolling: April 26 - April 28, 2019
Starlet
Event Points
Gift Boxes
5-Star #ThrowbackEvent: April 22 - April 25, 2019
Starlet
Gift Boxes
Star
Gift Boxes
VIP: April 19 - April 21, 2019
Starlet
Event Points
Gift Boxes
5-Star #ThrowbackEvent: April 15 - April 18, 2019
Starlet
Gift Boxes
Star
Gift Boxes
5-Star Weekend: April 12 - April 14, 2019
Starlet
Event Points
Gift Boxes
5-Star #ThrowbackEvent: April 8 - April 11, 2019
Starlet
Gift Boxes
Star
Gift Boxes
Love Is In The Air: April 4 - April 7, 2019
Starlet
Event Points
Gift Boxes
5-Star #ThrowbackEvent: April 1 - April 3, 2019
Starlet
Gift Boxes
Star
Gift Boxes
March 2019
Edit
Keep The Cameras Rolling: March 29 - March 31, 2019
Starlet
Event Points
Gift Boxes
5-Star #ThrowbackEvent: March 25 - March 28, 2019
Starlet
Gift Boxes
Star
Gift Boxes
VIP: March 22 - March 24, 2019
Starlet
Event Points
Gift Boxes
5-Star #ThrowbackEvent: March 18 - March 21, 2019
Starlet
Gift Boxes
Star
Gift Boxes
Lucky Shamrock: March 15 - March 17, 2019
Starlet
Event Points
Gift Boxes
5-Star #ThrowbackEvent: March 11 - March 14, 2019
Starlet
Gift Boxes
Star
Gift Boxes
Party Weekend: March 8 - March 10, 2019
Starlet
Event Points
Gift Boxes
5-Star #ThrowbackEvent: March 4 - March 7, 2019
Starlet
Gift Boxes
Star
Gift Boxes
Paris Fashion Week: March 1 - March 3, 2019
Starlet
Event Points
Gift Boxes
February 2019
Edit
5-Star #ThrowbackEvent: February 25 - February 28, 2019
Starlet
Gift Boxes
Star
Gift Boxes
Milan Fashion Week: February 22 - February 24, 2019
Starlet
Event Points
Gift Boxes
5-Star #ThrowbackEvent: February 18 - February 21, 2019
Starlet
Gift Boxes
Star
Gift Boxes
London Fashion Week: February 15 - February 17, 2019
Starlet
Event Points
Gift Boxes
5-Star #ThrowbackEvent: February 11 - February 14, 2019
Starlet
Gift Boxes
Star
Gift Boxes
New York Fashion Week: February 8 - February 10, 2019
Starlet
Event Points
Gift Boxes
Star
Event Points
Gift Boxes
5-Star #ThrowbackEvent: February 4 - February 7, 2019
Starlet
Gift Boxes
Star
Gift Boxes
5-Star Weekend: February 1 - February 3, 2019
Starlet
Event Points
Gift Boxes
Star
Event Points
Gift Boxes
January 2019
Edit
5-Star #ThrowbackEvent: January 28 - January 31, 2019
Starlet
Gift Boxes
Star
Gift Boxes
VIP: January 25 - January 27, 2019
Starlet
Event Points
Gift Boxes
Star
Event Points
Gift Boxes
5-Star #ThrowbackEvent: January 21 - January 24, 2019
Starlet
Gift Boxes
Star
Gift Boxes
5-Star Weekend: January 18 - January 20, 2019
Starlet
Event Points
Gift Boxes
Star
Event Points
Gift Boxes
5-Star #ThrowbackEvent: January 14 - January 17, 2019
Starlet
Gift Boxes
Star
Gift Boxes
Keep The Cameras Rolling: January 11 - January 13, 2019
Starlet
Event Points
Gift Boxes
Star
Event Points
Gift Boxes
5-Star #ThrowbackEvent: January 7 - January 10, 2019
Starlet
Gift Boxes
Star
Gift Boxes
5-Star Weekend: January 4 - January 6, 2019
Starlet
Event Points
Gift Boxes
Star
Event Points
Gift Boxes